There are many odd things about Australia still holding the British monarch as our head of state. Most odd is that it means our head of state isn't Australian and is at best, an occasional visitor. It also means we are a second or third tier consideration for a new King with some big issues on his plate - including the dire travails of Brexit Britain and the continuing scandals consuming his siblings and children.
The formal link to Britain as the top line of Australian government, known as Constitutional Monarchy also means we retain a powerful political continuity with a complicated colonial past. There's no escaping that British colonial Australia was built on invasion, dispossession and the establishment of a cruel penal colony - a cog in a global network of exploitative British colonial possessions.
Monarchists in Australia and elsewhere might remind us that the colonial years produced one of the most prosperous, diverse and desirable cities on earth. I share their love of Sydney and Australia and its best open, egalitarian attributes. My reading of the history doesn't point to the monarchy being influential in developing our best national character traits or political and social accomplishments.
I'm always chasing moments of historical significance, when I travel. And I still feel like a traveller here in Sydney. So when I saw a little public event was to be held to mark the first official day on the throne of Charles III, I was in. The last coronation celebration was in 1953!
It probably won't be seventy years before the next coronation, but with Australia toying again with the idea of becoming a republic, with luck, this might have been the last coronation to be officially marked in Sydney. It struck me as a date of historical consequence, something to think about - if not something I was especially interested in celebrating.
You've probably already worked out that, all the way over here in Sydney, I'm a reluctant subject of King Charles III, who's all the way over there in London. It's nothing personal. I watched The Crown. I've imagined what a hell lot he was handed. I'm aware of his environmental and heritage interests. I have a regard for Charles III to the extent I have any idea who he is or what he stands for. In the current political mess that besets the two big powers of the Angloshphere, King Charles III looks pretty reasonable (Australia and New Zealand aren't looking bad right now).

Government House Sydney for travellers
Government House was designed by Royal Architect Edward Blore in the 1830s. Blore also designed parts of Buckingham Palace and other prominent royal buildings in Britain. He designed Government House without setting foot in Australia, setting a precedent that's been followed by our absentee heads of state.
When the first Governor moved in to Government House in 1845, convict transportation to New South Wales had ended five years before. The role of governor was gradually changing in favour of a slightly more consultative form of government, and the economic transformation of the colony was gathering momentum. It was more than a century later that the First People of Australia were counted in the census and their rights to vote affirmed.
Government House was and remains a popular accommodation for visiting royals. Admiralty House, the Sydney residence of the Canberra-based Governor General, on the north side of the harbour, is the other accommodation of choice of royal visitors.


King Charles has visited on many occasions prior to his coronation. No doubt he'll be back as King before too long. To date, his mother, Queen Elizabeth II remains the only Australian head of state to have visited our shores. When Charles finally visits, he'll become the second.
Government House is still the official residence of the Governor of New South Wales.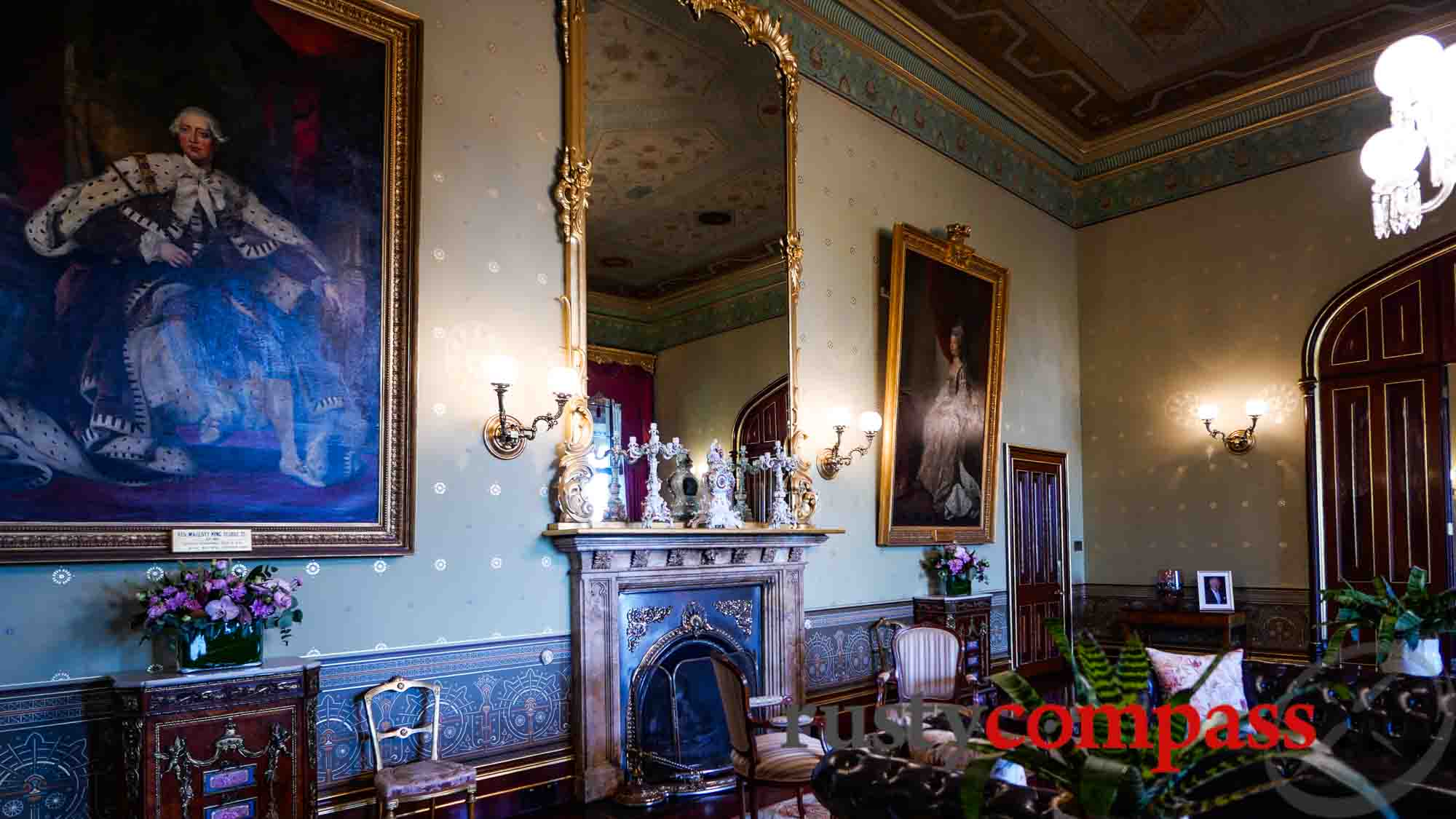 The role of this Government House in Sydney history has been more than passing. Big decisions were made within these walls over a century - before the role of Governor became more ceremonial as it now is.

In 1868, our first royal visitor, Prince Alfred, son of Queen Victoria, became our first and only victim of an assassination attempt. Crazed Fenian, Henry Patrick O'Farrell, shot Prince Alfred in the back at a charity event on Clontarf Beach. Alfred recovered at Government House. O'Farrell was promptly hanged at Darlinghurst Gaol, despite Alfred's calls for clemency.
Sydney's Prince Alfred Park and Royal Prince Alfred Hospital were named to honour our first royal visitor.

In 1932, months after the historic opening of Sydney Harbour Bridge, British national and New South Wales Governor Philip Game, dismissed the democratically elected New South Wales Premier, Jack Lang. Lang, a Labor Premier, found himself on the wrong side of the British Establishment as the Depression deepened in New South Wales. In an effort to ease the grim economic impacts on the poor, Lang proposed to defy the debt repayment schedule of the Bank of England. He paid a high price.
Lang wasn't the last democratically elected Australian political leader to be ousted from office by a representative of the British monarchy. In November 1975, Labor Prime Minister Gough Whitlam, was sacked in Canberra by the Queen's representative, Governor General, Sir John Kerr.
In 1954, Queen Elizabeth II became the first Australian Head of State to visit Australia. She charmed the nation. Some reports say 75% of the population connected with her somewhere on her long tour. I've been told she had long stays at Government House during that momentous visit.
Australian sentiment towards to the monarchy has shifted since the 1950s and is likely to be falling further after the death of Queen Elizabeth. A referendum on becoming a republic in the 1990s was rejected - though its failure may have reflected the framing of the question more than pro-monarchy sentiment. The current Labor government seems positively disposed to the idea of an Australian republic - but it has other things on its plate right now.

Inside the building, a room dedicated to Australia's first King - George III, was a surprise. Most Australians couldn't even name our so-called "first King". A gallery of portraits of all New South Wales governors since 1788 seems to celebrate an uneasy continuity between the early colonial Governors and their more recent, ceremonial successors.

The harbour setting and gardens are a sublime place for contemplation. Bring a book and take a seat after you've finished wandering!
Government House is usually open to the public a few days a week (Friday, Saturday and Sunday). It's a superb place for a little historical musing, while admiring architecture, gardens and Sydney Harbour.

Check out the video (above) for more of the fascinating connections this building has with Australia's past.

If you'd like to take a walk of history and heritage, looking at big Sydney stories and stunning Sydney places, join our Sydney - tales of the city walking tour here.